23rd Annual Cultural Studies Conference
Visual and Material Cultures in Global Perspective
September 28-29th, 2018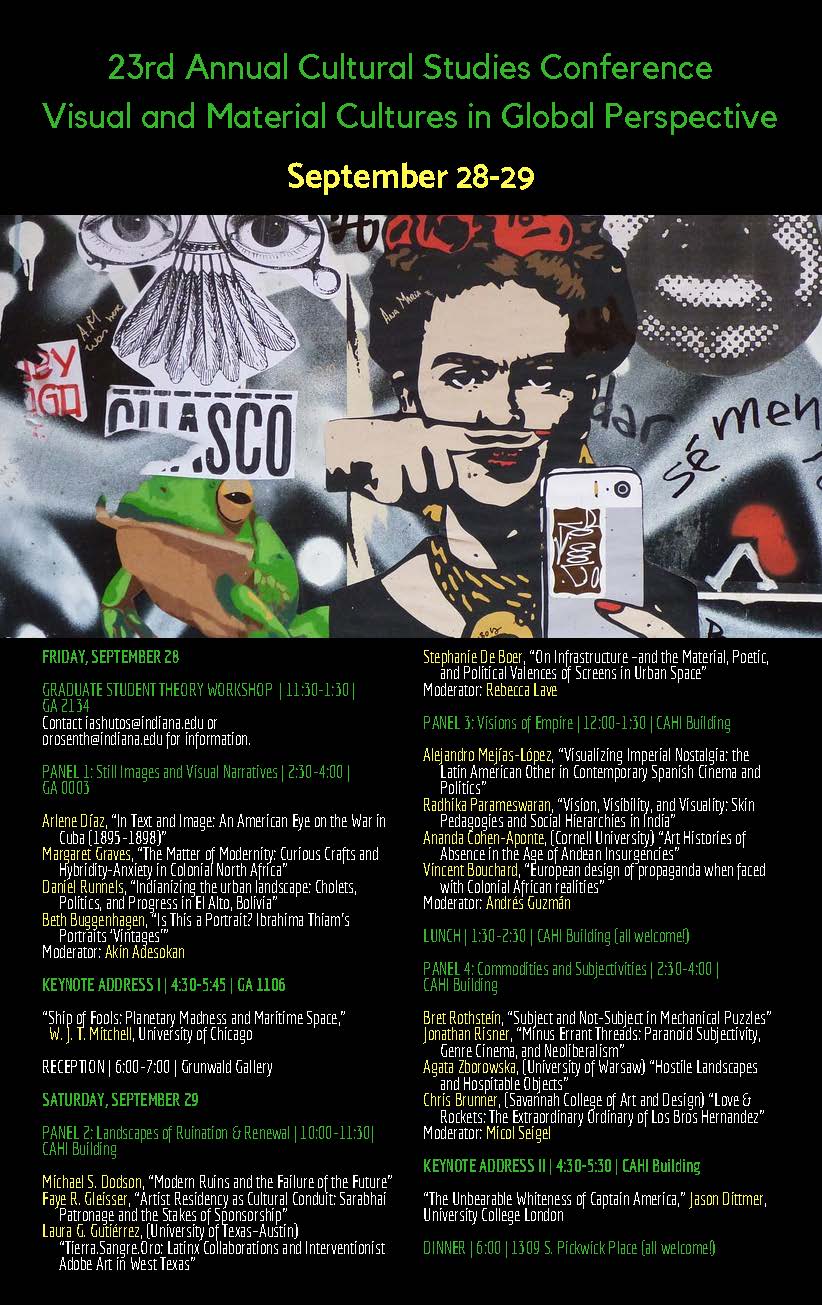 Cultural Studies has long occupied a productive tension between material and visual cultures. Over the years, scholarship on materiality and visuality has developed in relation to perceived limitations with the "linguistic turn," but also, more recently, in dialogue with the "new mobilities paradigm," and "object-oriented ontology." The production and circulation of images and material culture has, moreover, been forged and contested through colonial encounters of violence and intimacy, international political solidarities, and competing imaginaries of the global. This conference aims to bridge the divides between visuality and materiality by examining their recursive relation in the production and consumption of commodities, subjectivities and power as well as in the embodied sensations of sight and touch. By reflecting on how these issues are framed differently across disciplines, and in accordance to particular area-studies approaches, the main objective of this conference is to stimulate an interdisciplinary, globally-focused dialogue, on the historical role and current standing of visual and material cultures.  Some of the main questions that the conference seeks to address include: 1) how does visuality intersect with material practices in the production of racial and gender differences? 2) how do material and visual cultures reproduce and/or contest Eurocentric tropes and scopic regimes? 3) how does the circulation of images, objects, and people operate in tension with the imaginary and physical construction of national boundaries? and 4) how do contemporary visions of the world from outer space provide the basis for new international and transnational political solidarities focused on questions of materiality, particularly with regard to the environment and the crisis prompted by the anthropocene?
If you have particular research interests that fit within the parameters of next year's conference, please contact the co-conveners Ishan Ashutosh (iashutos@indiana.edu) and Olimpia Rosenthal (orosenth@indiana.edu).
FRIDAY, SEPTEMBER 28.
GRADUATE STUDENT THEORY WORKSHOP | 11:30-1:30 | GA 2134
Contact Ishan Ashutosh (
iashutos@indiana.edu)
 or Olimpia Rosenthal (
orosenth@indiana.edu)
 for readings   
PANEL 1: Still Images and Visual Narratives | 2:30-4:00 | GA 0003
·     Arlene Díaz, "In Text and Image: An American Eye on the War in Cuba (1895-1898)"
·     Margaret Graves, "The Matter of Modernity: Curious Crafts and Hybridity-Anxiety in Colonial North Africa"
·      Daniel Runnels, "Indianizing the Urban landscape: Cholets, Politics, and Progress in El Alto, Bolivia"
·     Beth Buggenhagen, "Is This a Portrait? Ibrahima Thiam's Portraits 'Vintages'"
Moderator: Akin Adesokan
KEYNOTE ADDRESS I  |  4:30-5:45 |  GA 1106.
"Ship of Fools: Planetary Madness and Maritime Space" 
W. J. T. Mitchell, University of Chicago  
RECEPTION | 6:00-7:00 | Grunwald Gallery
SATURDAY, SEPTEMBER 29.
PANEL 2: Landscapes of Ruination & Renewal | 10:00-11:30 | CAHI Building 
·     Michael S. Dodson, "Modern Ruins and the Failure of the Future"
·     Faye R. Gleisser, "Artist Residency as Cultural Conduit: Sarabhai Patronage and the Stakes of Sponsorship"
·      Laura G. Gutiérrez (University of Texas–Austin), "Tierra.Sangre.Oro: Latinx Collaborations and Interventionist Adobe Art in West Texas"
·       Stephanie De Boer,"On Infrastructure–and the Material, Poetic, and Political Valences of Screens in Urban Space"
Moderator: Rebecca Lave
PANEL 3:Visions of Empire | 11:45-1:15| CAHI Building
·      Alejandro Mejías-López, "Visualizing Imperial Nostalgia: the Latin American Other in Contemporary Spanish Cinema and Politics"
·      Radhika Parameswaran, "Vision, Visibility, and Visuality: Skin Pedagogies and Social Hierarchies in India" 
·      Ananda Cohen-Aponte (Cornell University), "Art Histories of Absence in the Age of Andean Insurgencies"
·      Vincent Bouchard, "European Design of Propaganda When Faced with Colonial African Realities"
Moderator: Andrés Guzman
LUNCH | 1:15-2:30 | CAHI Building (all welcome!)
PANEL 4: Commodities and Subjectivities | 2:30-4:00 | CAHI Building
·      Bret Rothstein, "Subject and Not-Subject in Mechanical Puzzles" 
·      Jonathan Risner, "Minus Errant Threads: Paranoid Subjectivity, Genre Cinema, and Neoliberalism"
·      Agata Zborowska (University of Warsaw), "Hostile Landscapes and Hospitable Objects"
·      Chris Brunner (Savannah College of Art and Design), "Love & Rockets: The Extraordinary Ordinary of Los Bros Hernandez"
Moderator: Micol Seigel 
KEYNOTE ADDRESS II |  4:30-5:30  |  CAHI Building
"The Unbearable Whiteness of Captain America"  
Jason Dittmer, University College London  
DINNER  | 6:00  |  1309 S. Pickwick Place (all welcome!)